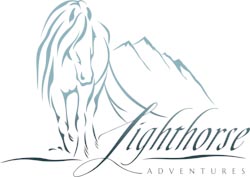 Horse Riding Treks in Glenorchy, Queenstown
Lighthorse Stables The Home Of  Happy Horses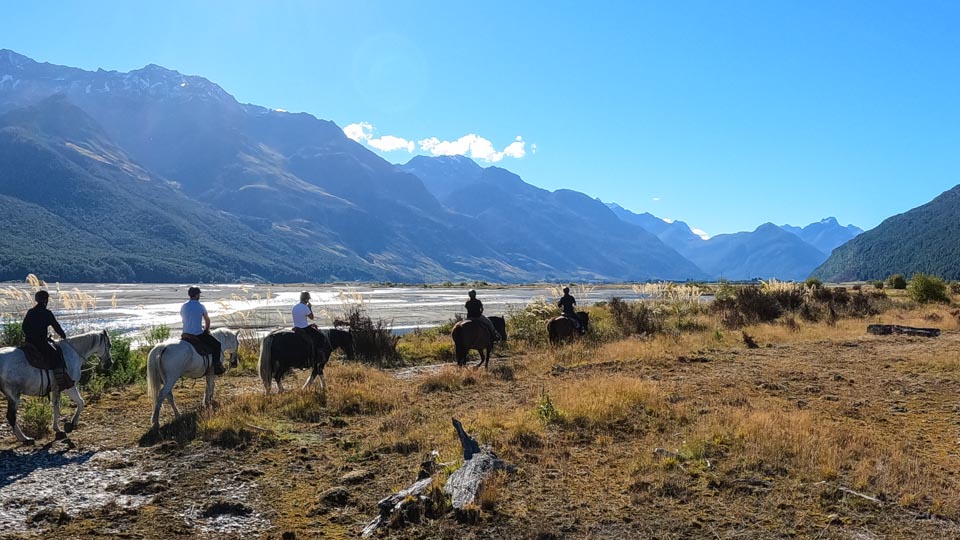 We offer fantastic horse treks for riders of all levels. Our ethos is all about the horses and their welfare; we believe happy horses lead to safer and more enjoyable trekking experiences for both the rider and the horse. Here at Lighthorse Adventures, we do things a little differently…! 
Join our Horse Treks in Glenorchy, a short drive from Queenstown, with our hand-picked, naturally trained, and quality-bred horses and a team of guides with a wealth of experience and knowledge in Natural Horsemanship.
Our Horses
Selected for their calm, gentle temperaments, strength and good character, our horses are various quality breeds. From purebred Clydesdales, gypsy vanners, Quater Horses and draft crosses, all of our horses are incredible individuals with good natures. We love all horses and believe that with the proper foundation, any horse can become a fantastic equine partner. Though starting with horses with a natural aptitude for trekking makes it more fun for them and us! Our horses go through extensive, foundational development to ensure they are ready to take you on your journey with us.
Our Guides
Whether you're a first timer who's feeling nervous, or you've ridden all of your life and are just wanting to try something "different". The passionate horse trek guides at Lighthorse understand your needs. Our team will help you feel safe, comfortable and cared for on your journey. Every guide goes through extensive horsemanship training and is regularly graded on their competence to ensure continued skill development, keeping the standard of care high for you as a rider and our horses.
Easy Rider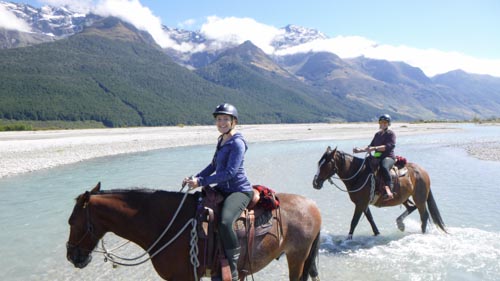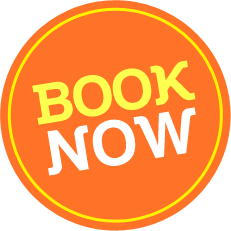 Price: $169
Ride Time: 75 minutes
Departs:  Select time on booking
A trail ride for everybody, even the kids! This relaxing, slow-paced trek allows you to explore the coveted landscapes of the Glenorchy river systems with its dramatic mountain backdrop.
Once you arrive, our friendly, experienced team will get you "geared up" and take you through an introduction to our horses and how we communicate with them. You'll have a chance to meet and bond with your horse before heading out for a leisurely ride along the valley and river systems. There's no more magical experience than venturing through the wilderness with you and your horse in harmony together!
*This ride is walking only.
Graze & Glory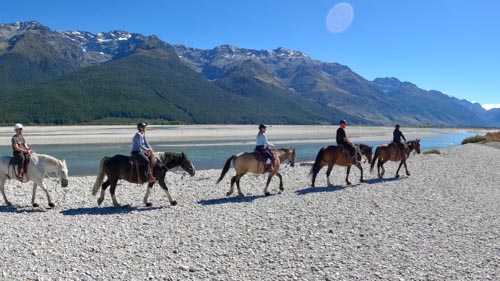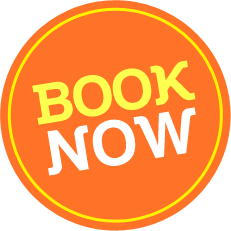 Price: $305 per person
Ride Time: 3 Hours
Departs: Select time on booking
The kind of ride dreams are made of. Feel like you are riding through a fairytale with this 3 hour adventure. Suitable for confident beginners through to advanced. 
Stopping midway through for a relaxing break and picnic lunch (or second breakfast!). Graze with your horse on the riverside!
 You'll get the best of both worlds, as this ride covers landscape from two different river systems, the Dart River and the Rees River. Both stunning braided rivers that are have their own unique qualities. 
*This ride is walking and trotting. Cantering is not guaranteed.
---
Rivers Wild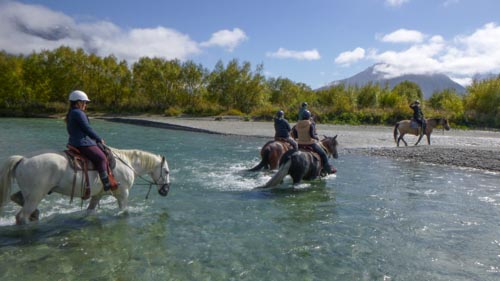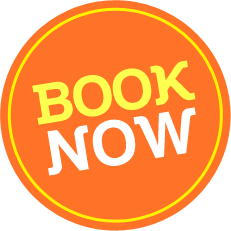 Price: $209
Ride Time: 2 Hours
Departs:  10:30 am & 3:00 pm
A beautiful 2 hour experience at the head of Lake Wakatipu, New Zealand's longest lake. Riding alongside braided, glacial fed rivers. This adventure offers river crossings and spectacular scenery, including views of The Misty Mountains, The Wizard's Vale and The Mighty Methedras. An unforgettable experience for all levels of rider and a great option for mixed ability couples and groups. 
Before you head out, our friendly, experienced guides will take you through an intro session on horsemanship and you'll get a chance to bond with your horse on the ground and then in the saddle. This session will set you up for a fun, harmonious ride and you'll feel like a horseman (or horsewoman) as you venture through the coveted landscapes of the Glenorchy river systems with its dramatic mountain backdrop. An experience you won't forget! 
 *This ride is walking with some trotting at the discretion of the guide. Faster paces are dependent on rider abilities and environmental factors and are not guaranteed on any ride.
Ride of the Kings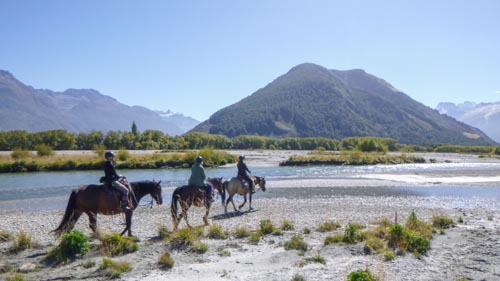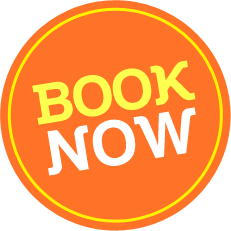 Price: $685
Ride Time: 5 Hours
Departs:  Select time on booking
An epic adventure through our glorious rivers and valleys! Get immersed in the experience and become one with your horse over this full day adventure. You'll start your day with an introduction to the art of Horsemanship and build your bond throughout the day while you and your horse venture together as partners through some of the worlds most scenic riding areas. 
Customise your ride with lunch (or second and third breakfast) and other horse activities such as log jumping, cowboy skills, horseback archery and/or added horsemanship tuition. 
*Extra activities subject to advanced guide availability.
*Trek availability is subject to weather and seasons.
For safety reasons:
If you are pregnant you are not permitted to ride.
If you have back issues that may be triggered by riding , you are not permitted to ride. 
For the health and wellbeing of our horses we have a strict rider weight limit of 105kg. Please note this and provide accurate weight when booking. We reserve the right to weigh all customers on the day of the ride and if they exceed the rider weight limit they will not be permitted to ride and a full charge will apply. For anything outside of these weight limits custom arrangements must be made prior to booking.
For your safety you are required to pay careful attention, listen to and follow instructions of your guides at all times.
Guides reserve the right to shorten, change or cancel trips for customers whose fitness or ability is not appropriate to the trip on which they are booked. If you are unable to complete the trek once the trip has departed, you will not be entitled to a refund. 
We accept no responsibility for any personal belongings that are taken on treks or left at our office. 
Booking Terms and Conditions:
All bookings are subject to weather and safety calls. If we can run the trek and the client chooses not to ride, there will be no refund, if we cancel the ride and cannot provide the client with an alternative, we will issue a refund. Customer cancellations must be made with a minimum of 24 hours notice prior to the day of your booked ride to qualify for a booking re-schedule or refund. Cancellations and booking changes made after 30 days, but prior to 24 hours will incur a 10% of the total booking fee, cancellations made within 24 hours of the day of your booked ride are non-refundable
Natural Horsemanship Treks
in the Dart Valley, Glenorchy, New Zealand
A horse riding experience you'll remember forever!