Wanganui is located on the West Coast on the North Island a 2 ½ hour drive from New Zealand's capital Wellington at the mouth of the Whanganui River – Te Awa o Whanganui, the longest navigable river in New Zealand and an important route for both Maori and Europeans. Surrounded by mountains, parks, reserves, picturesque beaches, and lush native forests, Whanganui is a city known for its historic buildings, steeped in history and culture and a growing reputation for the arts.
There are plenty of opportunities to get out and about, enjoy the river and the Whanganui National Park, Drive yourself, or take a tour along the scenic River Roa. Enjoy the beauty, tranquillity and remoteness of the river with a guided or independent kayak or canoe trip, lasting from 1-2 hours to several days. For a quicker way to get about on the river, join a jet boat trip that offers a scenic and authentic insight into days gone by and will take you to the 'Bridge To Nowhere, located deep in the forest of the National Park.
For a truly unique maritime heritage experience, visit the Whanganui Riverboat Centre, full of river-related artifacts and many photographs of the era. Take a trip on the river on the turn of the century paddle steamer – The PS Waimarie.
With numerous parks, reserves and walkways, you have every opportunity to enjoy nature in the city. Enjoy the beautiful Virginia Lake Scenic Reserve, Bason Botanic Gardens rated as a 'Garden of Significance', Kowhai Park with its quirky children's playground and Paloma Gardens that proffers a collection of exotic plants from around the world.
The city's growing reputation for the arts is evident with over 400 resident artists and musicians; every year, artists open their studios for public viewing, including carving, ceramics, painting and photography. It's well worth a visit to the Sarjeant Gallery, which houses an extensive collection of contemporary art and touring exhibitions, the Royal Wanganui Opera House and the Chronicle Glass Studio.
There are several beaches to visit. Castlecliff Beach is a classic seaside holiday option with its safe swimming and fishing. South Beach, with its excellent fishing and surfing, and Kai Iwi beach, is a safe beach for the whole family.
Cycle a section of 'The Mountains to Sea Cycle Trail, a grade 2 mostly flat ride making it accessible for most and a route which stretches from the coastal shores of Whanganui to the flanks of Mount Ruapehu, travelling through two National Parks with tranquil indigenous forest.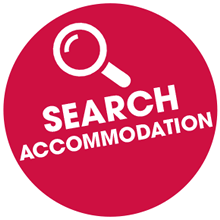 Wanganui offers some great accommodation to suit all budgets "Click Here"