Things to Do in Paihia, Bay of Islands
Immerse yourself in Paihia's captivating history and breathtaking landscapes, nestled in the heart of the Bay of Islands. This enchanting region holds great cultural significance as the site where the historic Treaty of Waitangi was signed in 1840, marking New Zealand's birth as a nation. Explore the grounds of the Treaty House at Waitangi and gain insights into the Maori and European heritage that shaped the country's identity.
Nature enthusiasts will delight in the numerous walking trails that dot the area, offering spectacular views and encounters with pristine wilderness. One of the most popular hikes is the scenic boardwalk leading to Haruru Falls, where you can witness the power and beauty of an impressive waterfall.
Across the Bay lies the historic village of Russell, known in its whaling days as the 'Hell hole of the Pacific.' Today, Russell exudes a relaxed atmosphere and is brimming with fascinating history. Explore the charming streets, visit historical sites, and soak in the serene coastal ambience. Stop by the oldest licensed pub in New Zealand to taste local hospitality.
A short 20-minute drive takes you to Kerikeri, renowned for its vineyards and horticulture. Experience the region's flavours by visiting the local market held on Saturdays, where you can indulge in fresh produce and artisanal goods. Discover the historical treasures of the Kerikeri basin, including 'The Stone Store,' a beautifully preserved stone building, and the 'Mission House,' reflecting the early European settlement in New Zealand.
Grab A Bay of Islands Special Deal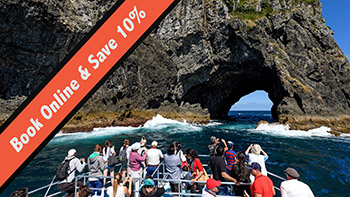 Half day cruise + Island Stop Over & Wildlife viewing
Book online & save 10%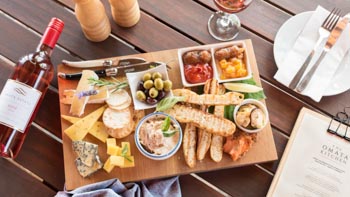 We have selected our top picks for the 
"Best restaurants in Paihia, and Russell."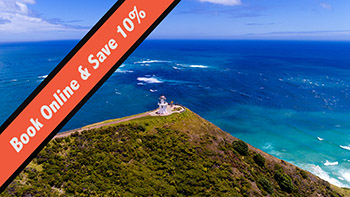 90 Mile Beach, Sand Dunes, Cape Reinga Lighthouse
Book Online & Save 10%
Stay longer in the Bay of Islands
Combine your Experience  with  Great Accommodation