Northland Experiences – Unique Biking & Hiking Tours

Northland Experiences
NZ Cycle Tours & Hiking Trips in Northland
Northland, New Zealand's most unique and unexplored natural retreat, is only a picturesque three-hour drive or 45-minute flight from Auckland. 
Northland Experiences offers one-of-a-kind bike and hiking excursions that are rich in history, culture, landscape, quirky towns, engaging residents, boutique lodging, and gastronomical pleasures. 
The ultimate high for your Northland stay is cycling and strolling year-round in our subtropical temperature, pure air, and beauty.
Discover Northland's Beauty and Heritage on Two Wheels or on Foot
Northland, New Zealand, is a stunning destination best explored by bike or foot. That's why Northland Experiences offers a range of guided cycling and walking tours that allow visitors to see the region's breathtaking landscapes, rich Maori heritage, and stunning coastlines up close and personal.
Twin Coast Cycle Trail: 
A Journey Along the Coasts of Northland The Twin Coast Cycle Trail is one of the most popular tours offered by Northland Experiences. This 85 km route takes you along Northland's east and west coasts, offering breathtaking views of the coast and the ocean. The trail is well-maintained and provides a scenic and relaxed route for visitors to experience the region's beauty.
Explore Rich Maori Heritage Along the Way During your tour:
Your knowledgeable guide will take you to historic sites, including ancient pa sites, cultural villages, and stunning beaches, each with its unique story. You'll also have the opportunity to learn about the rich Maori heritage of Northland. The guides at Northland Experiences are passionate about the area and are eager to share their knowledge and experience with you.
Tours for Every Type of Adventure Seeker
In addition to the Twin Coast Cycle Trail, Northland Experiences also offers a range of other tours, including half-day rides and multi-day adventures. Whether you're a seasoned cyclist or just looking for a leisurely walk, they have a perfect tour.
With our tours, you can get off the beaten path, see sights that aren't accessible by car, and leave knowing that you've truly explored the heart of Northland. With three 5 night, 6 day itineraries to choose from, as well as customised excursions designed just for you, fully supported all-inclusive biking and hiking tours. There's a lot of luxury and a little bit of rustic! Adventure at its finest with a tour company that goes above and beyond.
A Memorable and Authentic Experience in Northland
Northland Experiences is dedicated to providing its guests with a memorable and authentic experience. Their well-maintained trails and local hospitality make it the perfect way to explore this beautiful region of New Zealand. So if you're looking for a unique way to experience Northland, book a tour with Northland Experiences today.

NORTHLAND BICYCLE & WALKING TOURS
THE HISTORY OF COOK TO KUPE
Northland is New Zealand's birthplace. We visit landmark places important to early New Zealand history, such as the award-winning Waitangi Treaty Grounds, where New Zealand's founding document, Te Tiriti O Waitangi, was signed.
Our Cook to Kupe cycling trip honours Captain James Cook, who explored New Zealand, and Kupe, the mythical Polynesian explorer who made the first New Zealand landfall on the beaches of Hokianga Harbour.
Northland is fortunate to have a sizable Maori population, and there are several chances to learn about and engage in local Maori culture. Be enthralled by the stories told on your guided tour following in the footsteps of explorers and our forefathers.
The Cook to Kupe cycling trip fills up rapidly during peak season, but the beauty of Northland is that you can bike all year round, and the somewhat warmer weather in winter provides for ideal pedalling. Book today for the Northland bike adventure that will keep you coming back for more. It truly is unrivalled.
COOK TO KUPE (C2K) – FIVE DAY TOUR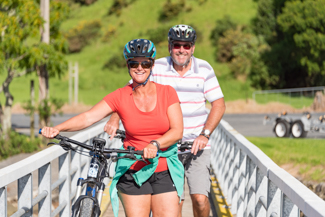 A five-night e-bike tour that takes you from the Bay of Islands on the East Coast to Hokianga Harbour on the West Coast.
The cycling tour includes one of New Zealand's Great Rides, the Pou Herenga Tai Twin Coast Cycle Trail, as well as carefully chosen back roads.
Our tours take you beyond the Twin Coast Cycle Trail to experience more of the Far North – small towns with quirky art galleries, kauri forests, ferry and boat rides, vineyards, more cycling and walking, taking in some of New Zealand's iconic attractions, as well as wonderful sights and experiences that only locals know about! A nice combination of riding and walking.
The path chronicles the tale of a growing nation by taking you on a fascinating tour through some of New Zealand's early Maori and European settlements.
Cycle tours run all year round.

All inclusive

Tour duration is 5 nights/5 days

Starts every Monday from Paihia, Bay of Islands

Final night is Friday night in Kerikeri. Tour concludes Saturday morning.

Tours are not guided whilst cycling, but our tour leader is nearby if you need a hand, meeting you along the way and at the end of the day. 

We keep the group size small to ensure flexibility, our transport is a luxurious 14-seater minibus.

Suitable for all abilities – including those who have never used an e-bike. .
Including some of NZ's iconic attractions as well as those hidden gems that only locals know of. Entry into Wairere Boulders, Waitangi Treaty Grounds (award winning), Hundertwasser Park Centre – Te Hononga, Footprints Twilight Tour, Pompallier House, Manea Footprints of Kupe. (2021 Time Magazine – top 100 places to visit in the world).

A new fleet of quality Avanti e-bikes that are kept in peak condition, and serviced after every tour.

Excellent accommodation.

All your meals from lunch on Day 1, through to dinner on Day 5. Breakfast, lunch and dinner.

Meals at lovely eateries, award winning restaurants, and a vineyard.
Click here for full itinerary.
---
The Cape Reinga Loop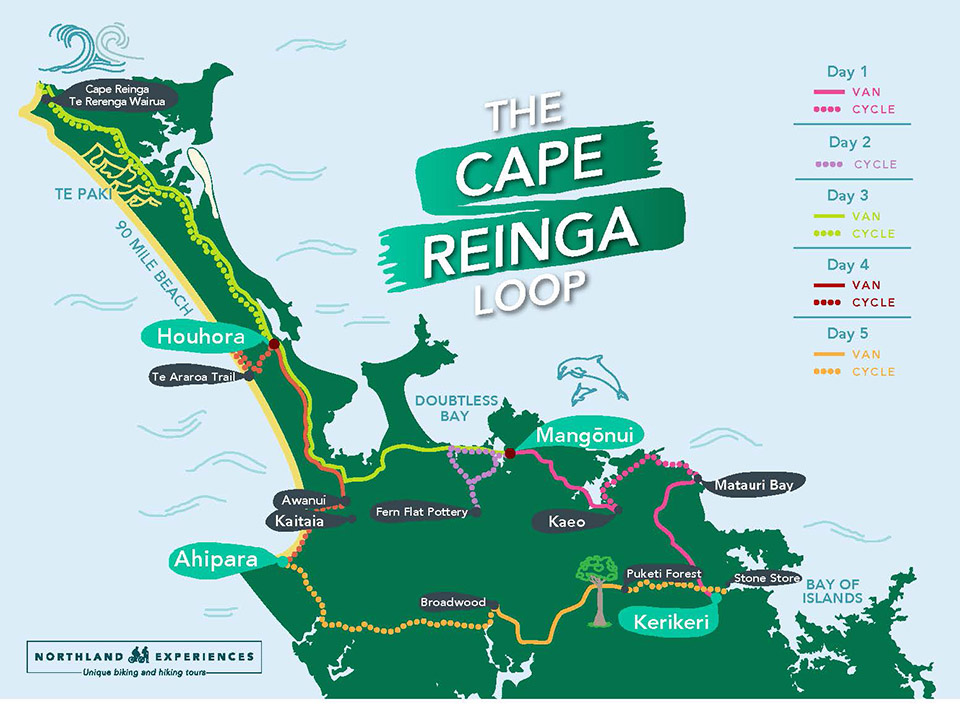 The 5-night, 5-day e-bike journey from Kerikeri to the renowned Cape Reinga, New Zealand's northernmost point, and back is offered by Northland Experiences.
The journey includes spectacular sites with stunning panoramas, such as the fabulous 90-mile beach, as well as several culturally significant areas, as well as 450 kilometres of incredible Far North beaches and native forests, with many character-filled encounters in between.
This is an all-inclusive, fully supported tour with an eclectic mix of lodging and local dining. We offer high-quality e-bikes, a luxurious van, and a local tour leader who will always be there to help.
Cyclists may pick how much riding they want to undertake each day, with daily lengths ranging from 20 to 70 kilometres. Some of our journey overlaps with the "Tour Aotearoa," a world-famous bike packing route that extends 3,000 kilometres from Cape Reinga to Bluff.
The route follows a combination of State Highway (from Cape Reinga to Awanui, as well as a few other short parts) and some less-traveled back country roads, both sealed and unsealed. The Cape Reinga Loop is a really unforgettable Northland experience!
This is an all-inclusive package, so all you have to do is book.
Click here for full itinerary.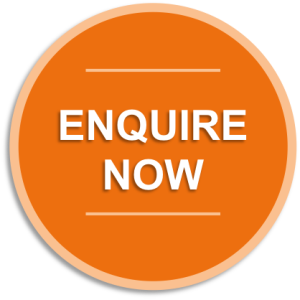 Make an enquiry for our 2023 Tours
Price per person from $3250 
N.B. Not included:  Alcohol, extra drinks etc
Check out other Tour Options:
Phone:   021 124 0382
Email:  [email protected]
Visit Our Website:  www.northlandexperiences.co.nz