And what goes well with a hot tub soak after a big day's adventure? A nice cold craft beer or cider or refreshing beverage of your choice.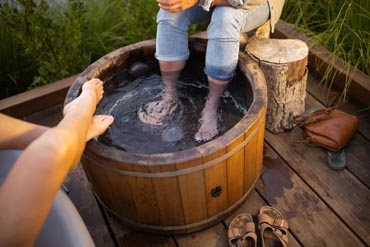 Just like a journey to our favourite hot stream in the bush, we've built in lots of cool little surprises for you to discover on your visit to Secret Spot.
After showering and changing in our brand-new cedar facilities, and picking up your flax kete (basket) with craft beverage of your choice, you head down the boardwalk through the ferns to find your secluded hot tub next to the Waipa stream. Relax, share the stories from your day's adventures, and connect with nature.
We have complimentary lockers to secure your gear, and mountain bikers are welcome to bring in the bikes – we know how you can't bear to be parted from them.
After your soak, lounge a little longer on our veranda and boardwalk area where you can enjoy a bite to eat, an ice cream, or a post-soak beverage while you check out your day's Go-Pro clips.